Suspend Employee
Before you start a Suspend Employee eDoc please contact Employee Relations for guidance regarding suspension.
Suspend Employee eDoc Process
In One.IU navigate to the eDocs tab in the HRMS Portal, click Suspend Employee.
- How to access eDocs
The Suspend Employee eDoc consists of 4 major sections: Effective Date, Action Reason, Job Data, and Earnings.

Suspend Employee Lookup:
Look up the employee that you want to place on a Suspension by entering available information that you have into the appropriate areas and clicking on .

NOTE: It's best to try to obtain the University ID, but if you don't have it, you may utilize the other available search options below.

Click on Suspend Employee Document under the Actions column and the Effective Date section will appear.  Enter the Effective Date of the Short Work Break.  The Effective Date is the date on which the suspension takes effect.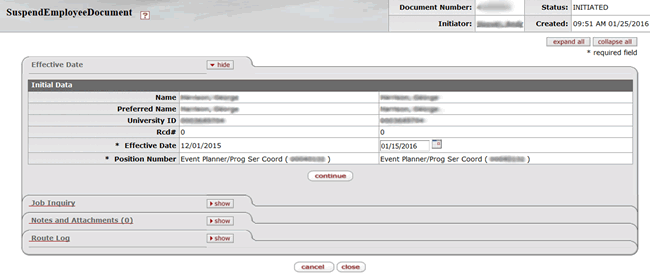 After entering the Effective Date select .  The Action Reason selection screen will appear with two options for this Action.  In this case, we chose Corrective Action-Sus with Pay (COP).  Note data on the right side that has been updated is highlighted in yellow (Effective Date).  This not only helps you confirm any changes before submitting for routing, but also helps approvers note changes when they review the eDoc for approval.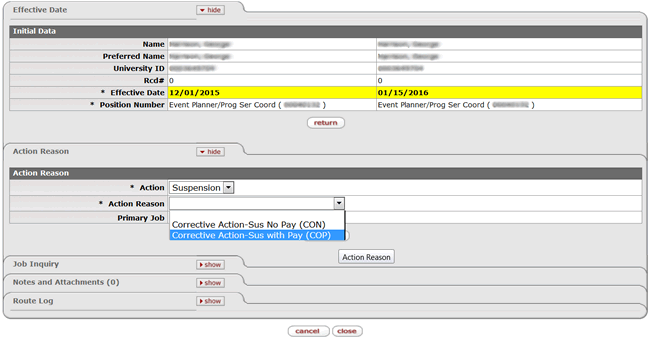 Enter the Expected Return Date, click on .  
HRMS eDocs provide you with two columns of information.  The left column shows you data for this employee's record as it currently exists in the system.  The data is copied forward to the right column with only certain field(s) editable.   In this case, there is only one editable field: Expected Return Date.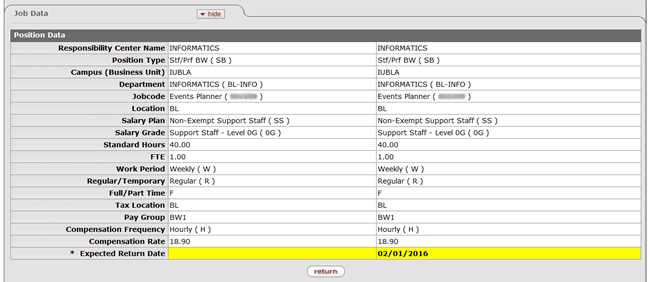 Now click .  
Note: If you realize you need to make a change after moving to the next section of the eDoc, you can use the button to return to previous section. You can return all the way back to the Effective Date section in this manner.
Earnings
Review the Earnings Section and update any funding information that needs to be changed.   On many of the Employee Activities eDocs, we've provided the opportunity to update funding.  But, in this example we have chosen to leave the funding as is.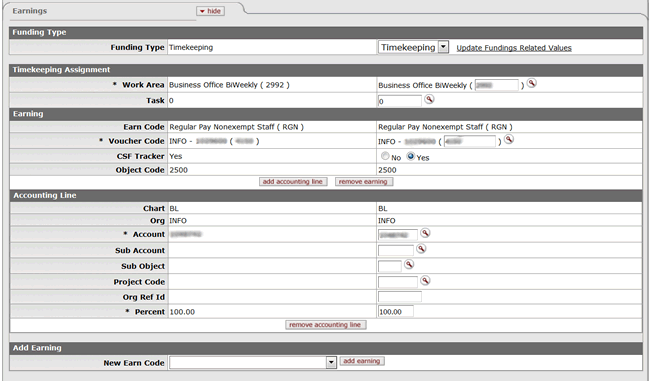 Notes and Attachments
Below is a typical note you might add.  You may also add an attachment such as a spreadsheet, PDF file or a Word document.

Once you've reviewed your eDoc one final time, select

to route the eDoc for approval. The eDoc should say, "Document was successfully submitted.". Now select

at the bottom of the document. Note that the status has changed to "ENROUTE".
Take Action
During document preparation you may want to save or close the eDoc to finish it later or for whatever reason you may have a need to cancel it. Otherwise, once you have reviewed your document and you are ready to route it, you will be presented with the possible actions listed below.
| | |
| --- | --- |
| | Take this action when you have completed and reviewed your eDoc and you are ready to submit for routing. |
| | This action saves the eDoc back to your Action List if you need to complete and route it at a later time. |
| | This action closes the eDoc and appears once you save, cancel or submit for routing. |
| | This action cancels the eDoc for you. Please use the cancel button rather than the "X" in the upper right corner of your browser screen. Closing an eDoc using the "X" in your browser, will leave the eDoc in INITIATED status, causing any further actions on the employee's record to be blocked without help from the HRMS Support Center. |
The full screen will appear as below: