Return from Leave
1. Follow the footpath to get to Job Data screen and enter all available employee information in the appropriate fields.
2. Click

.
A) If there is more than one entry under that University ID, a list of available choices will appear.

Click on your choice to access the record.

B) If there is only one entry, the record will automatically appear.

In either case, the next screen will look like this:
3. Once you get to the Job Data Screen, click on the

. This will allow you to create a new action record.
4. Change the Effective Date, if necessary. (The current date appears automatically)
5. Choose the appropriate Action/Reason by clicking on the drop down and selecting Return from Leave.
Note: Employee must be on a Leave of Absence in order for you to return him or her.
6. Select the three-letter code or click on

to use the lookup menu. You will find the following Reason options:
7. Click on RFL.
8. Select the Employment Data link at the bottom and then the Employment Dates tab at the top. Delete the date that is in the Expected Return Date field.
9. Enter Job Earnings Distribution Type.
Under the Job Earnings Distribution Type section of this page, in the *Earnings Distribution Type field, select None. By selecting None, HRMS will reset the *Earn Code to REG and the Distrb % to 100.000 (100% of the earnings should be attributed to the REG Earn Code, since the employee has now returned to duties from the work break).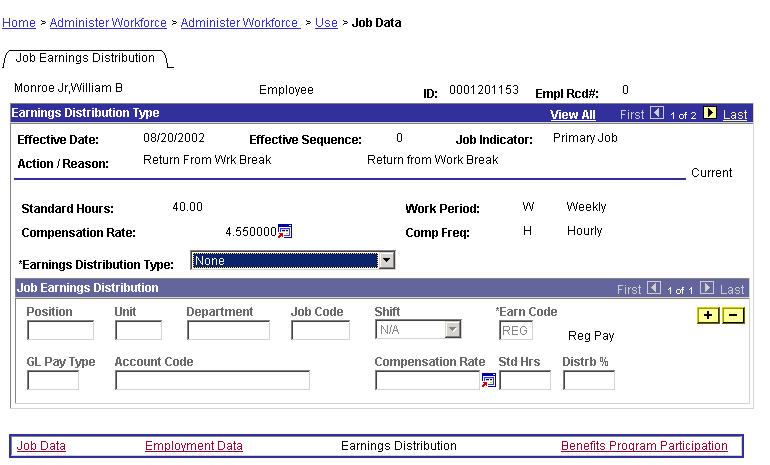 10. Refer to the Job Funding user guide as the final step to complete the Return from Leave process.
11. Click

to complete the Return from Leave action. This will save into the HRMS database all of the information that you have entered.