Maintain Funding eDoc
The Maintain Funding eDoc is for non-TIME employees only. This eDoc is for funding changes today or in the future. Please make any retroactive funding changes in KFS (Kuali Financial System) via the Salary Expense Transfer document. Current changes can be made on the payroll voucher.
Maintain Funding eDoc Process
In One.IU navigate to the eDocs tab in the HRMS Portal, click Maintain Funding eDoc.
- How to access eDocs
Maintain Funding Document Lookup
Enter the University ID, click , and records that meet the search criteria will appear.
NOTE: It's best to try to obtain the University ID, but if you don't have it, utilize the other available search options below.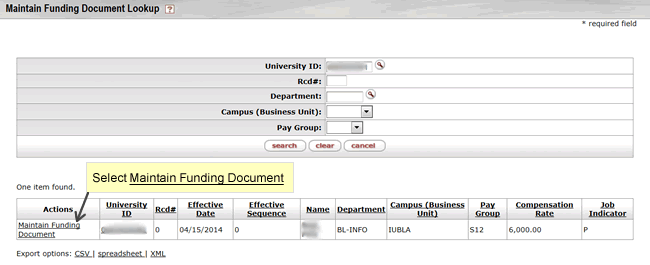 Click on the Maintain Funding Document link in the Actions column and the Effective Date section will appear.

Enter the effective date of the funding change. The effective date is the date on which the new funding takes effect.
After entering the effective date, select .
Note: If you realize you need to make a change after moving to the next section of the eDoc, you can use the button to return to previous section.
Action Reason – Job Data: Note that both the Action Reason and Job Data sections are collapsed. For both Maintain Funding (and Maintain Time Assignment) eDocs, the values for Action and Action Reason are populated by default. Likewise, for both Maintain Funding (and Maintain Time Assignment) eDocs, Job Data attributes are populated by default and not editable.
Earnings
Funding Type - The funding type defaults as: Percent, but on the drop down box the alternate option is: Amount. For detailed guidance about funding by Amount, check with your Personnel or Fiscal Approver.
Earning (Earn Code and Voucher Code) – In this section, the Earn Code displays and is not editable. The Voucher Code is flagged with an * and thus is a required field. Although this example is about updating the accounting lines, the goal of your own Maintain Funding eDoc may be to update the Voucher Code.  Note that the CSF Tracker check box defaults in as: "Yes" and should except in rare occurrences, be left as: "Yes".  Finally, the Object Code displays for reference only and is not editable.  Contact your Fiscal Approver for more information about Object Code.
Accounting Line – The percent totals of your Accounting Line(s) must equal 100%.
Required Fields:
Account (this field is required for all Maintain Funding eDocs)
Percent (if funding is by amount rather than Percent, then Amount would be required)
Optional Fields: Optional fields include, Sub Account, Sub Object, Project Code and Org Ref Id.
Example: Pete is currently funded on one account. The goal of this funding eDoc is to change his funding from 100% on one account, to 50% on each of two accounts. The percent totals of your Accounting Line(s) must equal 100%. When you submit your eDoc for routing, eDoc logic will confirm your percentages and not allow the document to route if it is not 100%.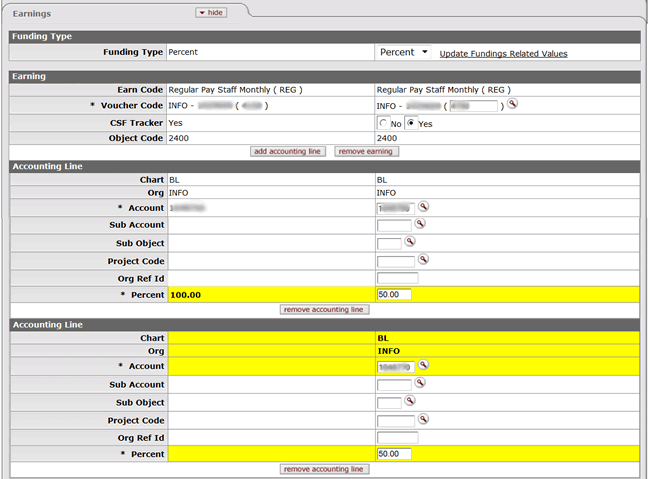 Note: HRMS eDocs provide you with two columns of information. The left column shows you data for the employee's record as it currently exists in the system. The data is copied forward to the right column with only certain editable field(s). Data on the right side that has been updated is highlighted in yellow. This not only helps you confirm any changes before submitting for routing, but also helps approvers note changes when they review the eDoc for approval.
Notes and Attachments
Below is a typical note you might add. You may also add an attachment such as a spreadsheet, PDF file or a Word document.

Once you've reviewed your eDoc one final time, select

to route the eDoc for approval. The eDoc should say, "Document was successfully submitted.". Now select

at the bottom of the document. Note that the status has changed to "ENROUTE".
Take Action
During document preparation you may want to save or close the eDoc to finish it later or for whatever reason you may have a need to cancel it.  Otherwise, once you have reviewed your document and you are ready to route it, you will be presented with the possible actions listed below.
| | |
| --- | --- |
| | Take this action when you have completed and reviewed your eDoc and you are ready to submit for routing. |
| | This action saves the eDoc back to your Action List if you need to complete and route it at a later time. |
| | This action closes the eDoc and appears once you save, cancel or submit for routing. |
| | This action cancels the eDoc for you. Please use the cancel button rather than the "X" in the upper right corner of your browser screen. Closing an eDoc using the "X" in your browser, will leave the eDoc in INITIATED status, causing any further actions on the employee's record to be blocked without help from the HRMS Support Center. |
The full screen will appear as below: