Hire WorkStudy Employee eDoc
Before you start…
The person you are about to hire as a WorkStudy employee is already a student.  Consequently, they will have a University ID.  If this person has never been employed by the university, you should complete the Maintain Person eDoc.  Also, the appropriate criminal background check and required I-9/E-Verify process should be completed.  For more information about I-9/E-Verify you may refer to the IU Human Resources page:  hr.iu.edu/eev/index.html.
Hire Employee eDoc Process
To hire a WorkStudy employee, follow the instructions for the Hire Temporary eDoc with the following notes:
 
If you are hiring a WorkStudy employee at IUPUI, please refer to the information at the end of this document.
In One.IU navigate to the eDocs tab in the HRMS Portal, click Hire Employee.
- How to access eDocs
The Hire Employee eDoc consists of 4 sections: Effective Date, Action Reason, Job Data, and Earnings.
Hire Employee Document Lookup:
The source document for a Workstudy hire is the Indiana University Federal WorkStudy Authorization form (See a copy of this form at the end of this document).  You may reference this form as you complete the eDoc.
Based on the employee information that you have, select the ID type from the drop-down menu and click on it.

ID Types:

National ID: Social Security Number
University ID: HRMS generated 10-digit number
Name & Birth date: first and last name of person and birth date

After you enter the University ID, National Id or Name and Birthdate), click on the Hire Employee Document link in the Actions column and the Effective Date section will appear.

Effective Date:
Enter the Effective Date of the hire, and the position number.   The hire effective date is the first day employed and should be within the range of the academic year date range; a summer WorkStudy hire should be within the summer session date range.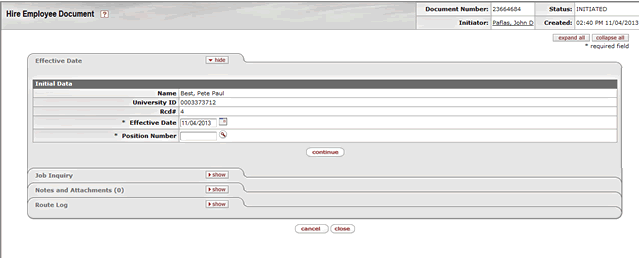 On the position lookup remember to enter your Department ID (in our example BL-INFO), salary plan WSU and select position status of approved.  Select the value WorkStudy.

Note: If you do not find the position you are looking for you will need to create a position for your department for that salary plan, i.e. WSU WorkStudy.  Refer to Create Pooled Position instructions.
After you've selected the position, then click

and the Action Reason and Job Data sections will appear.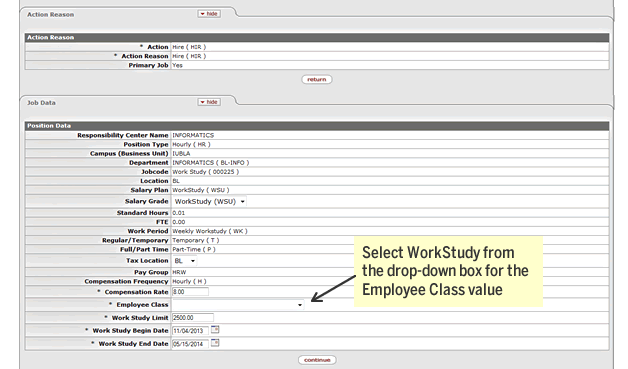 Choose the employee class for your WorkStudy hire from the Employee Class dropdown box.  In our case, we chose WorkStudy.  If it is an academic year hire be sure to select an Employee Class that does not begin with "Summer" or "Sum"; likewise if it is a summer hire be sure to select one of the Summer employee classes. 
In addition to Employee Class, make sure to fill in all required fields (indicated by "*") including:
Compensation Rate – In our example, 8.00
WorkStudy Limit - In our example, 2500.00
WorkStudy Begin Date - In our example, 11/04/2013
WorkStudy End Date - In our example, 05/15/2014
Now that you've filled in the required values, click

. After selecting continue, complete the remainder of the document (Earnings/Funding section) as outlined below:
Earnings:
The Earnings section has four required fields:  Work Area, Voucher Code, and under

, Account and Percent.
Before you begin this section, confirm that the Funding Type shows as Timekeeping. Most Temporary Employees participate in Timekeeping. Select a Work Area from the lookup . If you know the Work Area you can enter it directly into the field.  

Task is optional, but may be used by your department for certain Work Areas; if so, select a Task assignment.

 Select a Voucher Code from the lookup .  If you know the Voucher Code you can enter it directly into the field. 
Now click on  .  Select an Account from the lookup .  Again, if you know the Account number you can enter it directly into the field. 
Also add the percent charged to this Account. Note, since you can add multiple accounts, the percentage total must equal 100%; if there is only one account, just enter 100%.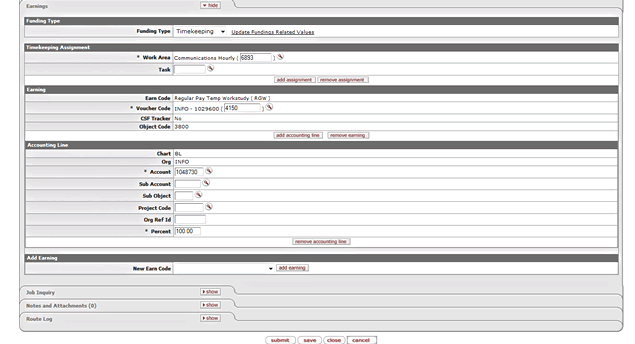 Notes and Attachments:
You can open Notes and Attachments by clicking on

 in that section. Enter your note in the Note Text field and click  

.  Helpful hint: When working in your eDoc, it is best to expand it fully, otherwise the add button on the Note and Attachment section may not appear on your screen, and if you forget to click on add, you will lose any Notes and/or Attachment(s).
See how a note appears below. Once it has been added, it will show your name as the author and list a Date/Time Stamp.

Take Action:
During document preparation you may want to save or close the eDoc to finish it later or for whatever reason you may have a need to cancel it. Otherwise, once you have reviewed your document and you are ready to submit it, you will be presented with the possible actions listed below.
| | |
| --- | --- |
| | Take this action when you have completed and reviewed your eDoc and you are ready to    submit for routing. |
| | This action saves the eDoc back to your Action List if you need to complete and route it at a later time.  |
| | This action closes the eDoc and appears once you save, cancel or submit for routing. |
| | This action cancels the eDoc for you. Please use the cancel button rather than the "X" in the upper right corner of your browser screen. Closing an eDoc using the "X" in your browser, will leave the eDoc in INITIATED status, causing any further actions on the employee's record to be blocked without help from the HRMS Support Center. |
| | |
| --- | --- |
| | When you click on the Print Cover Sheet icon, you are taken to a cover sheet that may be used when mailing paper documents to your central Human Resources or Payroll Office. The address that appears on the cover sheet will direct you to where the documents should be mailed. Many forms are now filled out electronically for various online enrollments, but you may have paper documents that need to be mailed in through campus mail, and this cover sheet will direct you to the appropriate office. |
Now that you have reviewed and are ready to route your eDoc, click

and the eDoc should say, "Document was successfully submitted.".
Please see a full document screen shot on the next page.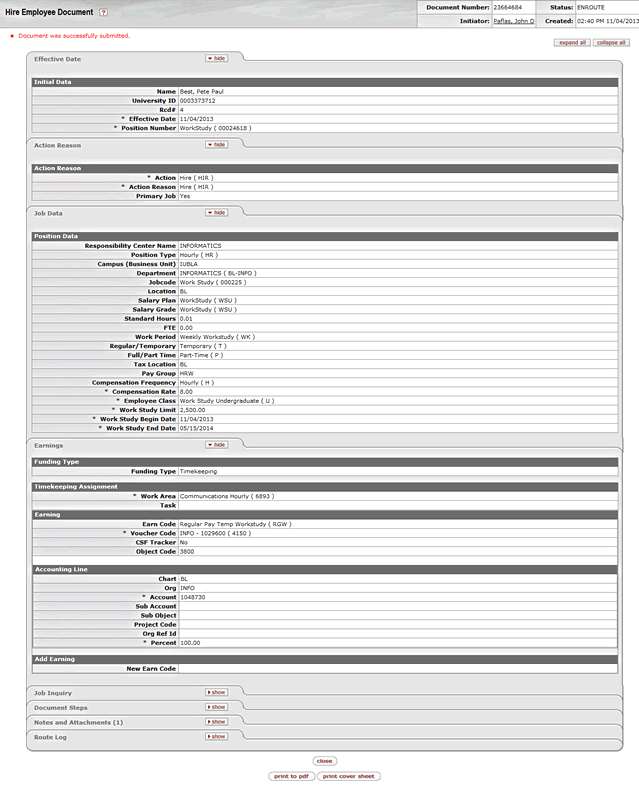 Federal WorkStudy Authorization
This document is an important resource for entering your Hire WorkStudy document information.