Enrolling Employee in Automated Benefits
This describes the process of enrolling a new or rehired employee in the different benefit plans within a benefit program. This includes adding dependent information and beneficiary information for each employee where needed.
Benefit Administration: Benefit Administration automates Open Enrollment and Event Maintenance processes. The Open Enrollment processing feature will automate the administration of the annual benefits enrollment period. The system will determine what benefit program the employee should be enrolled in and what options the employee is eligible for and finishes the process by validating and enrolling them into the benefit elections they have chosen.
The Event Maintenance aspect of the Benefits Administration process is used to manage the event-driven fluctuations that occur for employees at different times during the year. This process takes note of the event that the employee has encountered, reevaluates their benefits eligibility based on the event and if needed gives the employee the option to update benefits enrollment generating a Benefits Personal Enrollment form.
Benefit Programs and Eligibility: There are 6 benefit programs defined at this time. Each employee can only be assigned to one benefit program. The programs are listed below with the eligibility requirements.
FUL – Defined for all full time appointed employees where the sum of standard hours across jobs must equal 40 or more. This program includes all University benefit and leave plans. Benefits system must equal Benefits Administration for that job for standard hours to contribute to eligibility determination.
FNA – Benefit program exactly like FUL benefit program, but employee's salary must be less than $22,443 for year 2002($23,005 for year 2003) and employee must be nonexempt. They qualify for additional subsidy rates for medical and dental benefit plans. On the Benefit Program Participation page, Elig Cnfig 3 should equal SUBSIDY.
PTE – Defined for part time exempt employees where FTE is equal to 50 to 99%. Sum of minimum standard hours must be greater than or equal to 20 and maximum standard hours less than or equal to 39.
PTN – Defined for hourly employees whose salary plan is equal to HRP (Hourly PERF Staff) and part time biweekly employees that work less than 40 standard hours a week. A biweekly employee should never be appointed with less than 20 standard hours a week.
NOB – Benefit program with no benefit plans. This program is for any employee with an AC1 salary plan where sum of standard hours is less than 20. If an employee has one of the following jobs: hourly job not eligible for PERF, Workstudy, Fellowship, Academic – Object Code 2300, Student Academic, and Resident Counselor they do not qualify for any benefits. Data attributes for these jobs will not contribute in determining benefit eligibility. On the Benefit Program Participation page, Elig Cnfig 6 should equal NOB.
RET – Benefit program defined for those employees on IU Retiree Status eligible for Retiree Life Insurance.
If employee is on IU Retiree Status and chooses to come back to work for IU, depending on the job, the retiree may be eligible for benefits. If retiree qualifies for FUL or FNA, the retiree would enroll in Basic Life 2X salary or 1.3X salary and lose retiree basic life coverage for that time. If retiree comes back to work as part time nonexempt or exempt, retiree would stay enrolled in retiree basic life and be eligible for the other plans within that benefit program.
Note: Do not enter or change values for fields that are not mentioned. In some cases the values that are automatically provided are the correct values for our IU implementation. In other cases, the fields pertain to functionality that we are not using as part of our IU implementation and so the values that default in are immaterial.
STEPS
1. Search for an employee in HRMS:
After an employee has returned their Benefits Personal Enrollment form with their elections, the Campus HR Office logs into PeopleSoft. Follow the path below to access Benefit Enrollment.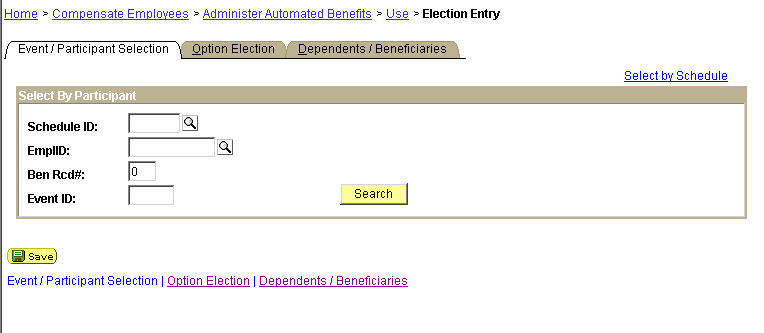 2. Use lookups as necessary to complete the Schedule ID and EmplID fields.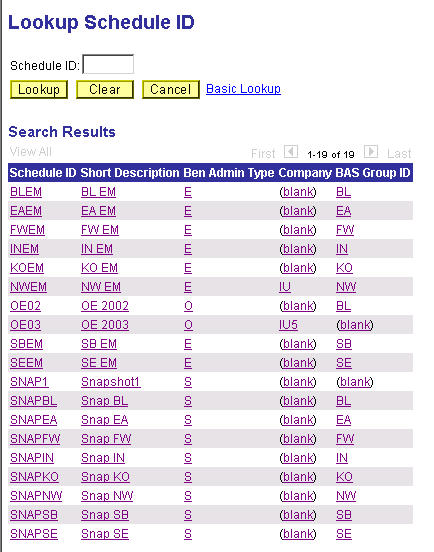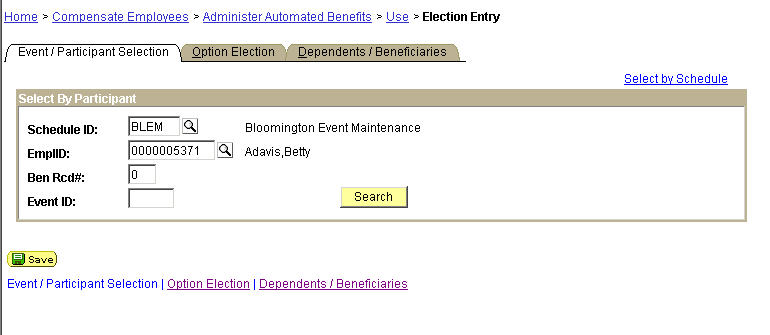 3. Once completed, click Search and the following page displays.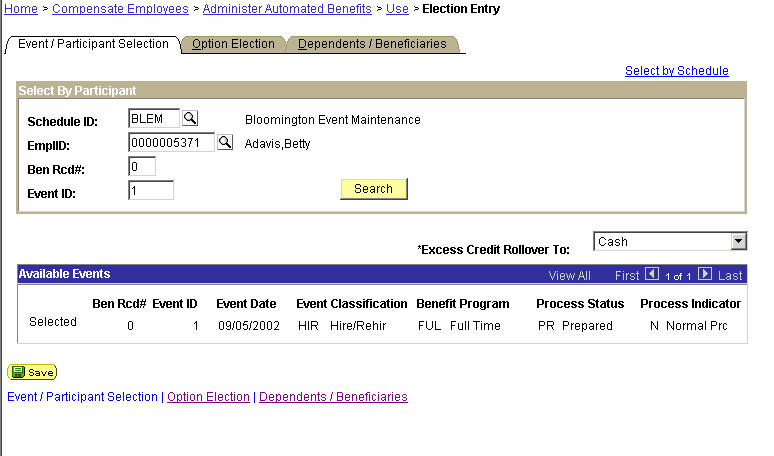 4. Enter Dependent/Beneficiary Information under the tab. Select Change/Add Dependent Data link.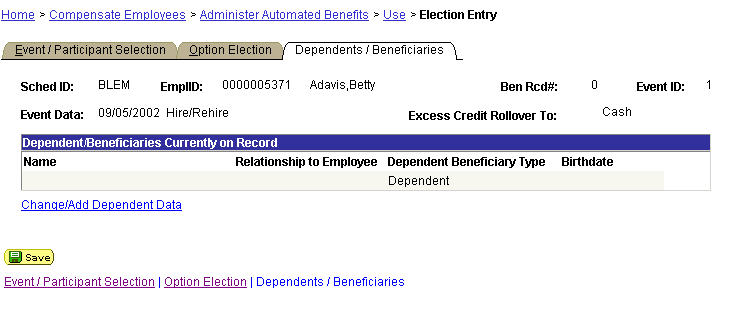 5. Enter the information on the Name, Address, and Personal Profile page.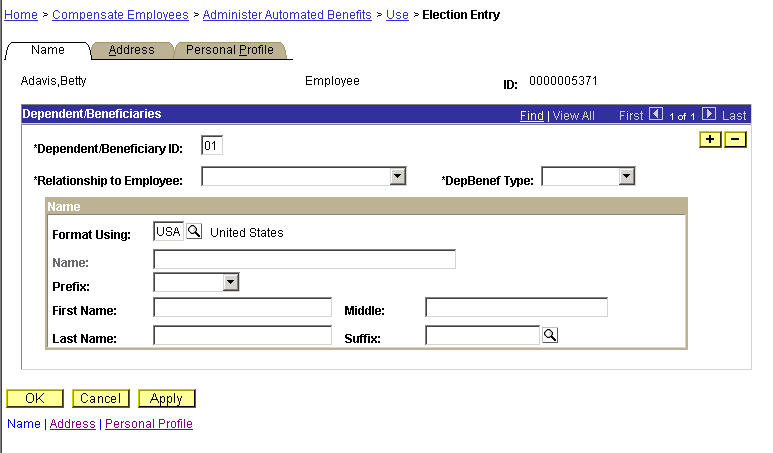 Note: If someone is listed as a dependent and a beneficiary, you will only need to enter their information once.
Name Tab:
Dependent/Beneficiary ID: Filled in automatically by HRMS.

Relationship to Employee: Click on drop down arrow and a list of choices will appear. You have three choices if this individual is a dependent and all choices if beneficiary. If a dependent, the individual MUST be one of the following: Spouse, Son or Daughter.

If Relationship is equal to Son or Daughter, but is a stepchild or the employee is a sole guardian you will need to enter additional information on the Dependent/Beneficiary Comments Page. You will also need to list Domestic Partner comments on this page too. If you choose relationship equal to Spouse and relationship is Domestic Partner Adult, enter Domestic Partner Adult in the comments. Refer to Alternate Flows Dependent/Beneficiary Comments on Page 17 for additional instructions.

DepBenef Type: Filled in automatically by HRMS with Dep/Benef

Format Using: Filled in automatically

First name: Drop down to second section under Name and enter first name of individual. If the beneficiary is a Trust/Estate enter the name here. This field is required.

Last Name: Enter in last name of individual or the Trust/Estate. If you are entering Beneficiary information, enter the Trust/Estate name again in this field. This field is required.

Prefix, Middle Name and Suffix are Optional. Complete if you have the information.
Completed Imaged: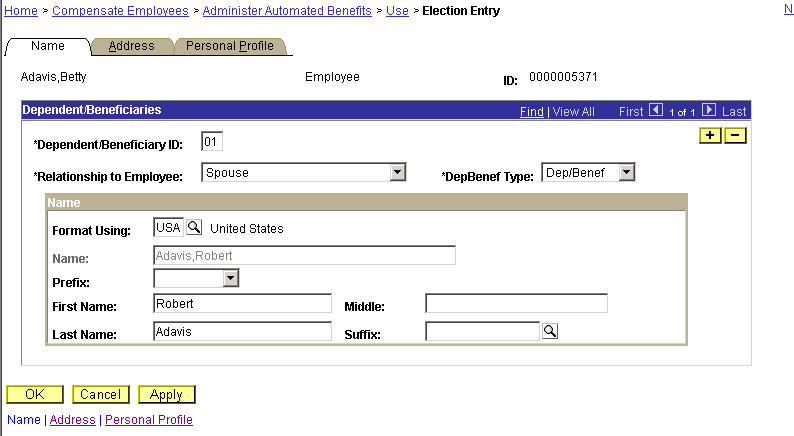 Address Tab:
In the address section, if the individual has the same address as the employee you can click on Same/Address Phone as Employee and all fields will be populated with the employee's information. If it is not the same address, at a minimum you need to enter in the following fields for a dependent: Address 1, City, Postal and State. The more information you can enter, the better. If you are entering a Beneficiary only, the address page is optional.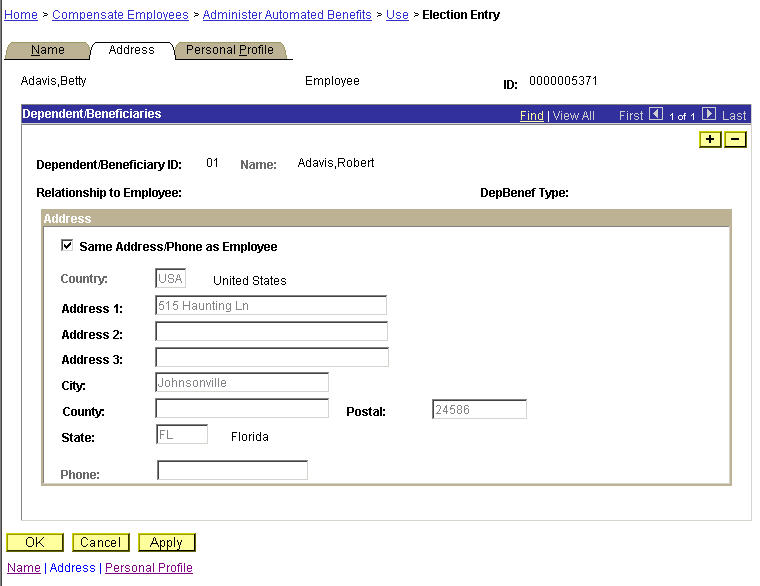 Personal Profile Tab:
Birthdate: Enter MMDDYYYY with no spaces and HRMS will format. Entering a four-digit year is important; HRMS assumes the 21st century when only the last two digits are entered. Birthdate is required for a dependent. If a beneficiary only, birthdate is optional.
Gender: Select from drop down Male or Female. Unknown appears in the box originally. UNKNOWN IS NOT AN OPTION for a dependent. IF YOU DO NOT KNOW – YOU NEED TO GO BACK TO THE EMPLOYEE AND GET THIS INFORMATION. If you are entering a beneficiary only, Gender may be Unknown.
Marital Status: Note you will see Relationship to Employee on this page defaulted from Name page. If the Relationship is equal to Spouse, you need to select Married and enter a Marital Status Date (mmddyyyy). Marital Status should be copied from the Marriage certificate and a copy of this certificate will need to be made and kept by the Campus HR Office.
Note: Marital Status defaults to UNKNOWN. If the individual is listed as a DEPENDENT, Marital Status is required and Single or Married are the only options. If the individual is a BENEFICIARY only, you may select Unknown.
Student/Disabled: If the dependent is a student, check R the appropriate box.
To qualify as a student, the IRS 501 Publication states your child must be, during some part of each of 5 calendar months during the calendar year (not necessarily consecutive):
1) A full-time student at a school that has a regular teaching staff, course of study, and regularly enrolled body of students in attendance, or
2) A student taking a full-time, on-farm training course given by a school described in (1) above or a state, county, or local government.
The IRS 501 Publication defines student as a full-time student as a person who is enrolled for the number of hours or courses the school considers being full-time attendance. IU considers the following for full-time status:
During spring or fall semester: Undergraduate 12 hours, grad 8 hours
First Summer (includes intensive 1 and 2): Undergraduate 6 hours, graduate 4 hours
Second summer (includes intensives 3, 4, 5): Undergraduate 6 hours, graduate 4 hours
Single Intensive Summer Session: Undergraduate 2 hours, graduate 2 hours
If a dependent is listed as a student on the enrollment form and the employee has signed the open enrollment form verifying the completeness, no additional validation needs to take place verifying student status of the dependent.
Note: If the dependent is not a student, he/she would continue coverage until the end of the month in which they obtain age 19. If a full time student, he/she would continue coverage until the end of the month they obtain age 24. This is a change from current business. Today, the dependent receives coverage until the end of the calendar year in which they turn 19 or 23.
Student Status Date is required if student is checked or is unchecked. Enter in the date the dependent became a student or is no longer a student. Very important if a student checkbox is unchecked. This date will eventually serve as a COBRA qualifying event.
If the dependent is disabled and the dependent has turned 19 and is not a full time student (24 if a full time student), the employee must fill out an application to have their child certified as disabled. This form should be submitted to University Human Resource Services within 30 days prior to aging off the benefit plan. University Human Resources will then review and approve or deny the application for certification. The University Human Resource Services office will enter disabled status into HRMS.
National ID: Country is 'USA'. NID Type is 'PR' for Social Security Number. Social Security Number is required and must be a permanent ID for a dependent. It is expected that the Primary ID box should be R checked identifying the SSN as a permanent ID. Under no circumstances should any number but a valid SSN for the associated dependents be entered into HRMS. If you are entering a beneficiary only, SSN is not required. Do not check the Primary ID box unless you have entered a permanent SSN.
On the Personal Profile page, there are two additional pages you may access to enter more information. They include the Riders/Orders page and Phone Numbers page.
The Phone Numbers page enables you to enter additional phone numbers.
The University Benefits Office is doing further analysis on the Dependent/Beneficiary Riders Page. The Riders/Orders Page only displays for election entry if Relationship to Employee is equal to Son or Daughter. Nothing should be entered at this time until further notice from the University Human Resource Services Office.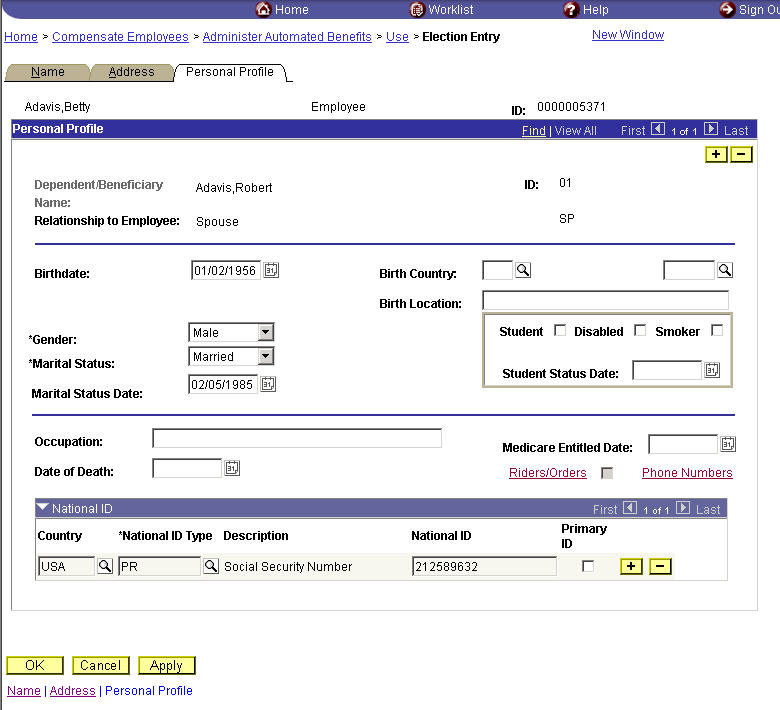 Once you have entered the information required for the first Dependent/Beneficiary, you will need to check the Personal Benefit Enrollment form for additional names to be entered. If there is more than one name listed, you will need to select the Name page and under the Dependent/Beneficiaries section click the

button.
A blank record will display with a new number populated in the Dependent/Beneficiary ID. Repeat the above process.
When all the dependents/beneficiaries are entered click the OK button at the bottom on any page that you are currently on.
Notice, you are now back where you started only now on the Dependents/Beneficiaries page. You may review what has been entered for the employee at this time under the Dependent/Beneficiaries Currently on Record section.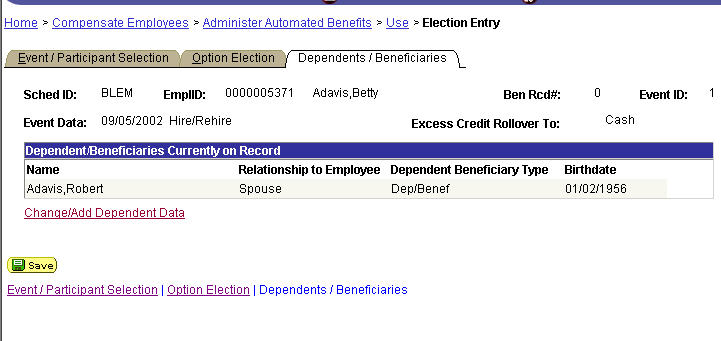 6. Enter Elected Plan Options for Employee.
The section Available Plans and Options follows the Employees Personal Benefits Form. Option Information is arranged by Plan Type.
Look at the scroll area at the top of the page. You will notice there can be a different amount of plan options for an employee. Each one will need to be populated.
It is best if you start with 1 and work through the plans selecting the employee's options based on their Personal Benefits Form. The (1 of 13) arrows are used to move 1 plan forward or 1 plan backward. Outside of those arrows, First and Last are used to move to the first plan type or last plan type.
For each plan type, you will need to enter the fields listed below to successfully enroll an employee into benefits.
Next: Medical and Dental