Create Pooled Position
HRMS Departments on most campuses should have available the following pooled positions: Temporary, Student Temporary, Temporary with Retirement, Work Study, Additional Pay - Academic Services, and Additional Pay - Staff Services.
A pooled position is a non-budgeted position that could have one or more incumbents. On the IUB and IUPUI Campus pooled positions should be created at the department level, on all other campuses, check with your Campus HR Office for assistance.
If you need to create a pooled position, see the following instructions:
NOTE: These instructions are how to create a temporary position type.  For Additional Pay instructions see the Create Additional Pay Position page.
Create Pooled Position Process
In One.IU navigate to the eDocs tab in the HRMS Portal, click Create Pooled Position.
Once in the Create Position eDoc, begin configuring the Effective Date section by entering the effective date of the position to be created.  The Effective Date defaults to the date on which you are completing the eDoc, but you may choose any subsequent date. 
Next select the Campus (Business Unit) of the position's department.
Finally, click on Pooled Position.  


In this example we have selected Pooled Position Template.
Next use the magnifying glass button to select a specific Pooled Position Template.  To narrow your search in the Position Number field, enter "PPT".  Unique to Pooled Position Templates, the position numbers all begin: "PPT". 

Now select "return value" and the template will be displayed.  In this example, we have chosen Regular Temporary (PPT00180).
Once the completed Effective Date screen is displayed select,


Position Data
Fill in the required fields, following the instructions in the screen shot below. Use the lookup links if necessary. 
Note: fields labeled with an asterisk are required to be completed.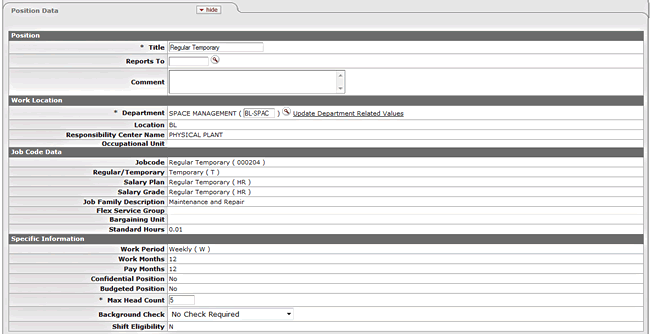 Once you've reviewed your eDoc one final time, select

to route the eDoc for approval. The eDoc should say, "Document was successfully submitted.". Now select

at the bottom of the document.
Take Action
During document preparation you may want to save or close the eDoc to finish it later or for whatever reason you may have a need to cancel it.  Otherwise, once you have reviewed your document and you are ready to route it, you will be presented with the possible actions listed below.
| | |
| --- | --- |
| | Take this action when you have completed and reviewed your eDoc and you are ready to submit for routing. |
| | This action saves the eDoc back to your Action List if you need to complete and route it at a later time. |
| | This action closes the eDoc and appears once you save, cancel or submit for routing. |
| | This action cancels the eDoc for you. Please use the cancel button rather than the "X" in the upper right corner of your browser screen. Closing an eDoc using the "X" in your browser, will leave the eDoc in INITIATED status, causing any further actions on the employee's record to be blocked without help from the HRMS Support Center. |
Your completed eDoc should appear as below: