Action List
The Action List is where documents are routed when action is required by an Initiator, Approver, or Final Approver. You will find the Action List task in One.IU, and may add it to your favorites if you wish.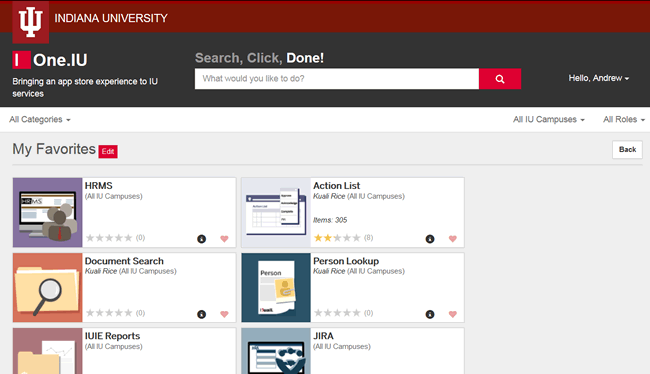 Open your Action List task frequently, to see if there are documents requiring your attention. 


Note, on your Action List bar, there are three buttons to your right, preferences refresh and filter.

Below is a high level review of Action List page set-up:


Select the way you want your Action List to be displayed.  You may set:
General Action List preferences, such as refresh rate (in whole minutes) or Page Size (the number of rows on your Action List page). 
Fields Displayed in Action List – This allows you choose the columns that are displayed across your Action List page such as Document Type, Action Requested or Document Route Status.
Document Route Status Colors for Action List Entries – This section allows you to color code route status
Email Notification Preferences – Allows you to choose how you receive email notifications.  For example daily, weekly or immediate notification. 


Refreshes the page with any updates to the action list


This allows you to filter results by parameters such as, Document Route Status or Action Requested.  In addition, you may filter by document type on the Action List itself.

In order to review the document, click on the Id as seen in the screen shot below and then either take action (the document will be removed from you Action List) or close the document (the document will remain in your Action List).

For General information on Action Lists, refer to the Knowledge Base -  https://kb.iu.edu/d/anar#top